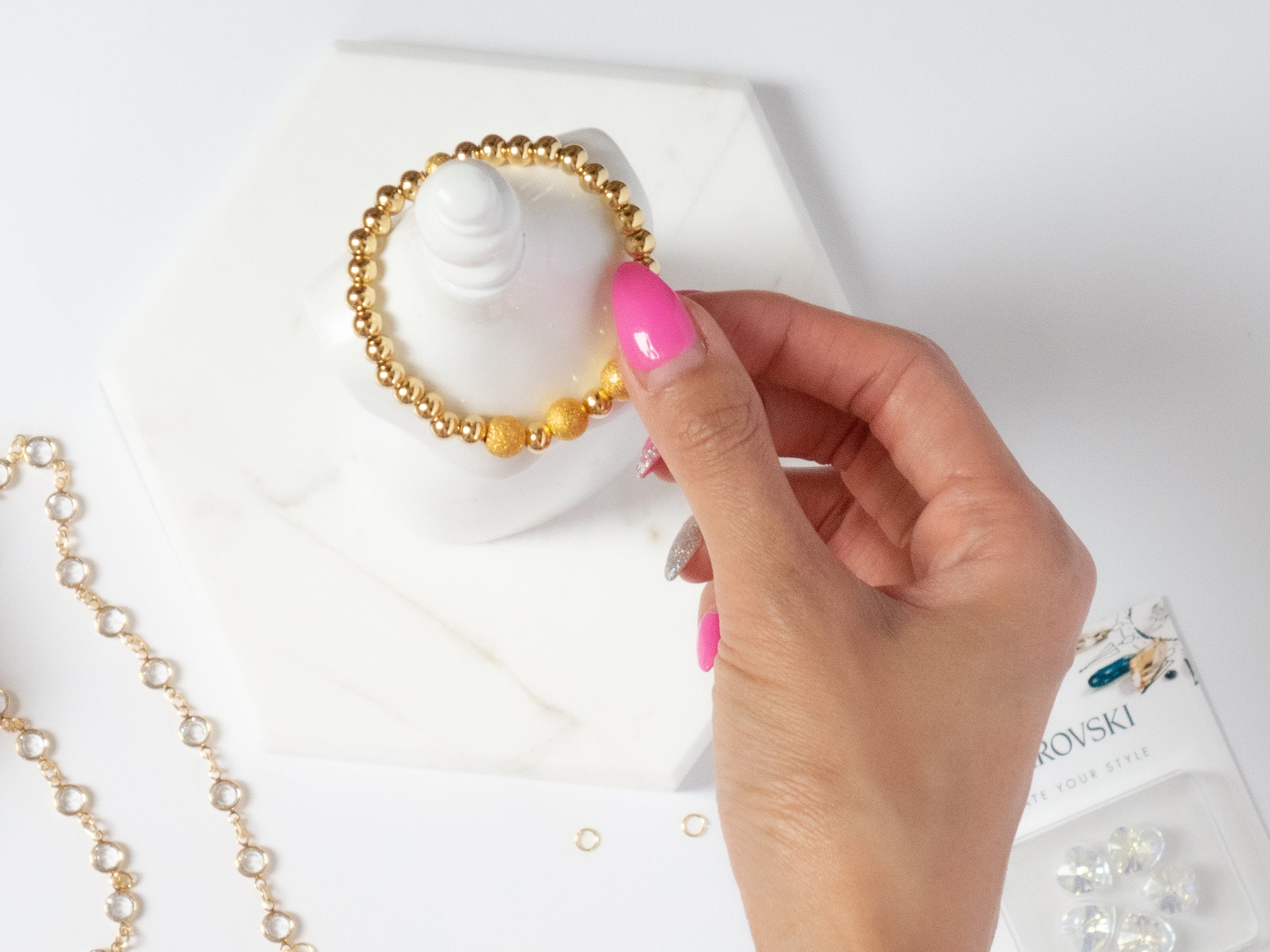 OUR MATERIALS
We carefully select high quality materials to ensure your jewelry will last for years to come. 💖
The majority of our jewelry is made of sterling silver or stainless steel as the base, and then dipped in 18K gold, 925 silver, rose gold, or other unique colours to create the perfect look.
Surgical / Stainless Steel
Many of our accessories are made from high quality stainless steel (some are surgical grade) that does not rust, tarnish, or turn your skin green. We love the durability of stainless steel and its ability to hold a wide variety of beautiful finishes, such as 18K gold and rose gold, that fully complements your style.
Care
Avoid harsh chemicals or water when wearing your pieces to help the plating last longer. 
Be gentle. Don't drop or grind your jewelry on hard surfaces to avoid scratches. 
Clean items with a jewelry polishing cloth. 
Sterling Silver 
Most of our more delicate pieces are made of 925 sterling silver, which is an alloy made of 92.5% pure silver and 7.5% copper. Since pure silver is relatively soft and easily damaged, the addition of copper provides better durability without sacrificing its natural shine. For a golden look, we dipped this precious metal in 18K gold.

Care
Avoid water when wearing your piece, because sterling silver will oxidize over time.
Wear your pieces often, because the oils in your skin can help keep sterling silver from oxidizing faster. 
Store with care separate from other jewelry or in a cloth/pouch to minimize scratches and other damage.
Avoid exposing silver to household chemicals or chlorinated water. Take them off before swimming, shower, or doing household chores. 
Clean with fine silver polishes and silver polishing cloth. 
JEWELRY CARE TIPS
We are committed to providing high-quality and stylish jewelry pieces for you to cherish. Most of our products are dipped in various metal and colour to achieve a beautiful finish for your various looks.
Here are some tips to help keep them shining as bright as you for years to come: 
Avoid direct contact with harsh chemicals including household and beauty products such as detergent, hairspray, deodorant, makeup, and perfume to help preserve the metal and plating.
Remove your jewelry before exercising, swimming, showering, bathing, or jumping in salt water to help plating last longer. Note that some tarnishing may occur naturally from certain skin's PH levels.
Store each piece separately in a protective box, pouch, or cloth to avoid scratches and damage. 
Clean your jewelry with a soft cloth or jewelry polishing cloth. Wipe with clear non-chlorinated and non-salted water if necessary. Do not use any harsh detergent, soap, or abrasive jewelry cleaners. 
If your pieces are exposed to the chemicals or situations mentioned above, some tarnishing or damage may occur. 
Have questions? Email us at hello@twinklelinks.com.